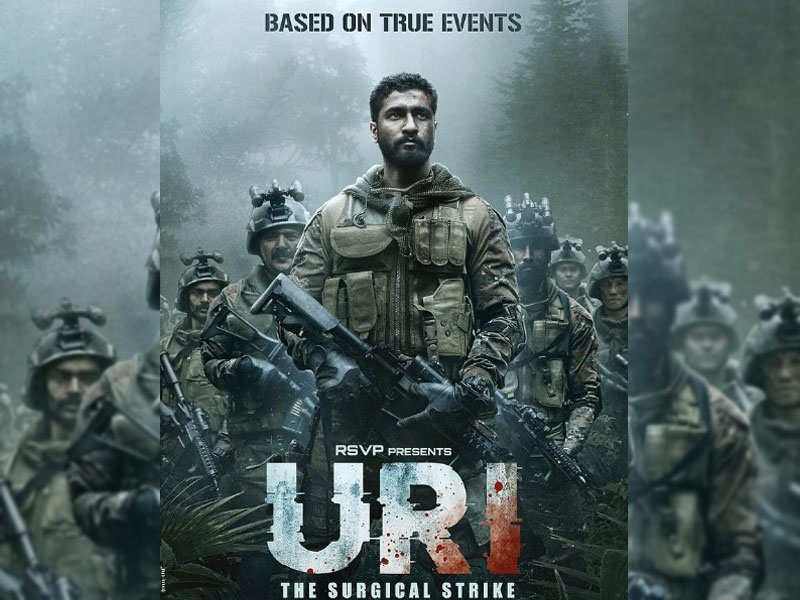 Not only was this my first movie of 2019 it ticked multiple boxes of requirement for my movie-watching pleasure. Having grown up on the kind of war movie fare that comprises of Border, LOC and its ilk, Uri sets a new benchmark in the genre. While it's not as taut as Zero.Dark. Thirty or Hurt Locker, it doesn't drop the ball much and maintains the EQ (entertainment quotient) at an even keel.
The positives:
The cast doesn't ham it up or go excessively overboard A la Manoj Kumar and the jingoism is kept to a tolerable minimum.
Vicky Kaushal stands out as always. He has the ability to get into the skin of his characters and make them believable. His Vihaan Shergill is light years different from Vicky from Manmarziyaan. Hopefully he won't go down the Salman and Shah Rukh route and rehashing the same role over the decades.
The cinematography and combat scenes are shot well and look pretty realistic without the main protagonists coming across like invisible superheroes.
The locales and terrain are well-chosen and play as much of a role in building the pace as do the characters and the plot.
The chest thumping machismo is kept to highly realistic levels while giving a *very* human glimpse into what a soldier's life is like.
The music is spot on and thankfully they don't burst into a song and dance like Border did. *rolls eyes*
The lack of a romance angle, the staple fare in Hindi movies, is very refreshing. The movie is about brotherhood, vengeful justice and about family from beginning to end.
The so-called side characters like Rakesh Bedi, Ivan Sylvester Rodriguez, Mansi Parekh and Riva Arora do their bit very competently in adding layers to the evolving story line and Riva Arora especially, emotes beautifully as the daughter who has just lost her father. Her outpouring of grief is very realistically portrayed in a child this young.
The Not-So Positives
Paresh Rawal is wasted in this role IMHO. An actor of his capabilities just frowns and breaks mobile phones in half all through the movie and would have been more apt as a spokesperson for an antacid or IBS.
Rajat Kapoor too doesn't succeed in embodying the persona of the PM. His casting seems to be a misfire.
Swaroop Sampat too falls flat slightly as an Alzheimer's patient. She is restrained, too much at times, to really have any impact at all. Pretty much a wallflower.
Yami Gautam is pretty. And that's pretty much all there is to her. She fails to convey a sense of urgency as a RAW agent. She is entirely extraneous in the whole scope of things.
Kirti Kulhari, as always, comes across as very serene and composed as real. Her role could have been a bit more fleshed out.
The scene where Asma and her husband get information about of a senior Pakistani official about the troop deployment at the Indo-Pak border could have been choreographed better. But then again, who knows how spooks get the job done.
All in all, Uri is a slick flick where the cast, locale and OST all do justice to the subject- The Surgical Strike. This is the kind of movie that evokes the pride and patriotism slowly but surely.
Rating: 3/5