Isn't tough. It gets switched on almost from the time they are born but liking them every single minute of every day, that takes some doing.
Imagine seeing this gorgeous sunrise and feeling at peace with the world at large…
when suddenly 'Pig gam ba li, de la pig gam ba li ba Pig gam ba li, de la pig gam ba li ba Pig gam ba li, de la pig gam ba li ba Pig gam ba li, de la pig gam ba li ba Pig gam ba li, de la pig gam ba li ba Pig gam ba li, de la pig gam ba li ba Pig gam ba li, de la pig gam ba li ba Bamb bamb bamb di gi di da dam (whoo)' blares out from the room behind you and the magic of the moment is gone. Poof!
I listen to all sorts of dumb songs myself but there's a saying in Hindi about 'waqt ki nazaqat' which roughly translates to the delicacy of the time and may seem uppity to some but actually makes a lot of sense. There's a time and place for things. Some things need a bit of a soft touch rather than going ham-handed on it.
But more about how kids really try your patience…imagine (yet again) you calling out to your selectively hearing-impaired child about brushing his teeth and having his breakfast/milk/meal. Imagine doing it again and again till you may reach decibel levels only a dog could hear. And get no response in return. Child in question is about 20 feet away.
The same child yells out that he wants fried onions, cheese and egg in his ramen but no veggies, from 2 rooms away just because the smell hit his nose. It's a STRONG internal struggle not to do this at that exact time-
My mornings are usually a rush to:
get child out of bed

get child off the couch where he went after getting out of bed

haul child into bathroom and dump him on the toilet seat and put toothbrush in his hand

come back in 10 minutes put toothpaste on child's toothbrush and wake up him for good and tell him to get his butt off the toilet seat

nudge him till he gets off toilet seat and goes and splashes some water on his face.

turn on the light at which point he yells "no lights…aarrgh!"

make him brush his teeth while he mumbles how sleepy he is through a mouth full of foam

pray for coffee grande to magically appear while I try not to lose my shit

I could probably go all the way to 100 but that coffee grande is finally calling me…
The first thing I do when the small child leaves the house is take a deep breath and stop hiding the fact that I almost constantly stream stuff while I potter around the house and get my chores done. When the big child leaves, I usually celebrate…erm…play something soothing or something reminiscent of my childhood and just dance around a bit and reclaim my domain.
As The Bard wrote- Make happy and sad times as you fly by, and do whatever you want, swift-footed Time, to the wide world and all its vanishing delights. The vanishing delights take on another form when the school bus pulls up and you prepare for another round of body slamming hugs, clothes scattered all over the floor and shouts of "what's there to eat" and "ewww I don't want this" or "oooh! my favorite! I love you…you're my favorite mother in the WHOLE WORLD!!!"
It's not easy to like the little monsters all the time. But it's no hardship either.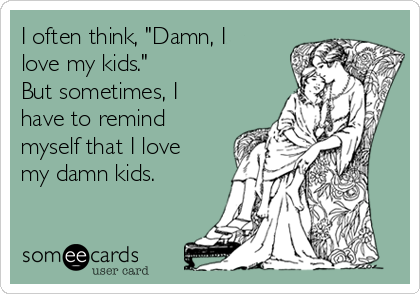 To mothers everywhere…Salut.