This post is more than 13 years old and when I was apparently going through an e.e.cummings phase:
the last 2 days have been quite a lot of fun. reason? took my parents shopping. it went something like this-
Me-ma why are you eyeing that suit ka kapda? you want it?
Ma-na re. expensive and i dont really need it now( eyeing it summore)
Me-mum! stop ogling it already and take it.
Ma-noooo. i dont need it now…have enough suits.
Me-but you dont have this color, oh lord! wait, i'll get the drool bucket!
Ma-beshi bokish na( zyaada mat bolo!) but the color does catch your eye doesnt it?
Me-mammaaaaa, he's about to make the bill, it's a lovely color, you dont have it.BUY IT NOW OR FOREVER HOLD YOU PEACE! 
Ma-why do you have to dramatise everything to this extent.i dont want you to spend so much on a suit right now. i said no.
Me-ok. calm down. i wont force it on you if you dont want it.
Ma-dint i say i dint want it.
Me-ok bhaiyya, we wont take it. baaki sab ka bill bana do.
Sales guy-ok ma. amma you want the blue one?
Me-no she doesnt, she said she doesnt want it.
Ma-such a fuss.FINE! if you insist…bhaiyya, usko bhi bill mein jod do. (turning to me)-not a word out of you and DONT TELL YOU FATHER!!!!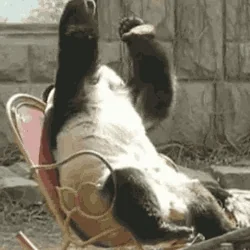 Last nite with the pater-
Me-this is for you! surprise!! you may thank me now.
Baba-is this black? you KNOW i dont wear black! it's got front to back embroidery. it's too much!
M-it's not baba, you dont have something of this kind. Ma& i thought you'd look gooood in it.
B-it's BLACK!
M-it's not. take it out of the cover and see it in the light and you'll find that it's…
B-ok it's blue but what are all these triangles?
M-it's made from jute and the latest style.
B-alright,alright. dont breathe down my neck. let's go the shop and let me see if anything catches my eye.
M-alright. exchange it. why bother that your only offspring went and bought it for you out of love and affection.
B-uff! chup thaak ma.
M-maaaaaaaaaa. baba's being mean.
so off went the happy family to the dukaan. once inside-
B-can you show me all the dull,no-jhango colors and designs you have?( that's what he meant i know it!)
Salesman- sir, yada yada yada.
B-NOT THIS ONE! it's black. it'll make me look like a sabarimala pilgrim!
M-how many of those ppl do you know that wear 1800 ka kurtas to the pilgrimage?
B-chup!
after many agonizing minutes later.
B-i think i'll keep the one you bought, the salesman said it's the latest design and i really dont have anything of this type. and i think i'll take the black one also. it kind of grows on you after a while. it has a certain class to it.
AND DONT TELL YOUR MOTHER!!!
M-of course not!
once we got home-
M-maaaaaaaaaaa! guess what baba did. you 2 deserve each other..fickle shoppers. god gimme strength!